Image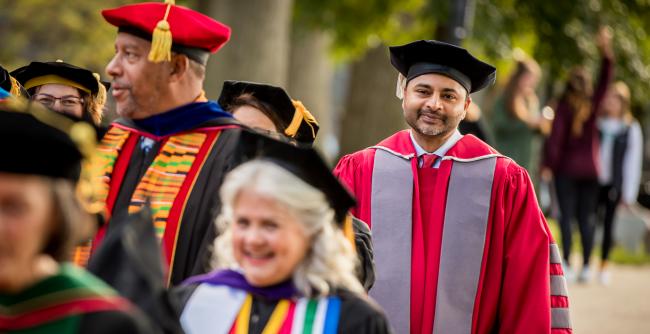 Arcadia
University
Arcadia University reboots culture while exceeding financial targets.
Background
Founded in 1853 as Beaver Female Seminary, Arcadia University is a top-ranked private university in Greater Philadelphia and a national leader in study abroad. The Institute of International Education has named Arcadia University #1 in the nation for undergraduate students studying abroad for 10 of the past 11 years, and U.S. News & World Report ranks Arcadia among the top regional universities in the north. The university's Physical Therapy and Physician Assistant programs are nationally ranked by U.S. News & World Report.
Challenge
Universities and colleges across the United States face tremendous pressure to meet financial targets, boost enrollment, unite university culture, and maintain a relevant vision in a rapidly changing society. In 2017, after a series of leadership changes, Arcadia needed a new president. Like many institutions of higher ed, the university had been working to restructure and modernize, but struggled to engage faculty and staff in the process. Blow back from unpopular decisions resulted in increased turnover among board members and administrators.
"We needed the kind of cultural shift that would improve collaboration across the university and foster buy-in for decision making," says Rebecca Craik, P.T., Ph.D., F.A.P.T.A., Dean, College of Health Sciences, Arcadia University.
Image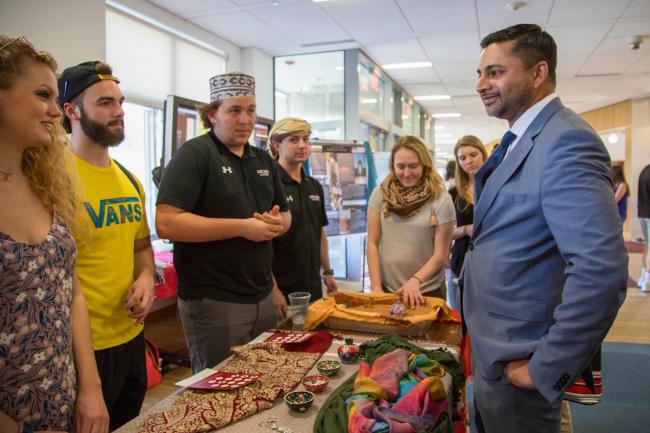 Approach
In 2017, Arcadia engaged Andrew Wheeler to help land its next president and new Cabinet members. The university aimed to foster shared vision and improve stability.

Phase 1: Identifying a President for the Future
Wheeler initiated the search with a series of on-campus forums totaling 50 hours, where he interviewed more than 200 students, faculty, staff, administrators, alumni, and board members. He built a highly competitive candidate pool, including three sitting presidents, a provost, and two deans, but knew that was not enough. Interview data revealed feelings of mistrust and alienation among faculty and staff. Arcadia needed a leader who possessed an uncommon capacity to inspire and engage the full breadth of constituencies.

Wheeler identified Ajay Nair, PhD, a social justice scholar and Head of Campus Life at Emory University. Unlike the other candidates, Nair's experience came from student affairs. Moreover, he was nearly 20 years younger than the average age of a university president. Yet, the young leader's career demonstrated extraordinary promise. Nair's reputation for building diverse cultures of collaboration had been attracting national attention. As Dean of the Berick Center for Student Advising at Columbia University, Nair integrated distinct undergraduate schools, engaging diverse faculty in the shared process of reimagining the student experience. At Emory, he reoriented student life around academics through close relationships with faculty. Nair regularly exceeded financial targets, and his vision for higher education aligned with Arcadia's founding principles.

Nair enjoyed his work at Emory. Moreover, he had received a compelling offer from Stanford University. Wheeler convinced him to apply, explaining how Arcadia's core values and unique challenges presented an opportunity to advance his life's work.

"I never set out to be a university president," Nair says. "Once I started studying Arcadia, I saw how our values are intimately intertwined, especially related to issues of justice."

Nair impressed the search committee. Wheeler coached the candidate to reveal his whole self throughout the interview process, including his ideas for remaking higher education in pursuit of ideals and values steeped in justice, equity, diversity, and inclusion.

"It was so liberating to present myself authentically," Nair says. "It truly is a calling."

Phase 2: Rebuilding the Cabinet
Immediately after Nair assumed office in April 2018, he worked to solidify his President's Cabinet. He needed a team who believed in shared governance and building community, and, most importantly, were tremendous listeners. 

Nair hired Wheeler, who from late 2018 to early 2020 helped Arcadia land five Cabinet members. Wheeler acted as Nair's confidant, advocate, and advisor, helping Arcadia design impactful search committees and coaching members to overcome personal agendas and apply guiding principles. He helped manage internal conflicts and maintain relationships with candidates throughout the process, freeing Nair to focus on his new role. 

Nair's hiring strategy sought to avoid diversity quotas, which tokenize candidates, and challenged Wheeler to identify exceptionally talented individuals who offered unique perspectives and shared his commitment to Arcadia's values. Wheeler continued searching until he unearthed those candidates. Like Nair, none had been looking for a new job.

"With Andrew, we moved rapidly," Nair states. "Andrew became an extension of the university and a powerful force for Arcadia. He gave us another layer of expertise and accountability to ensure we were getting it right."
Andrew became an extension of the university and a powerful force for Arcadia. He gave us another layer of expertise and accountability to ensure we were getting it right.
–
Ajay Nair, Ph.D., President, Arcadia University
Results
Arcadia landed its top choice candidate in all six searches, gaining its first President of color and a historically diverse cabinet. The new leadership team is already delivering significant results:

Giving and Support Up
Annual giving at Arcadia has steadily increased, exceeding the $3M target in FY2020 and topping $4M in FY2021. The Fund for Arcadia, which exclusively supports student success initiatives, including scholarships, athletics, STEAM programming, and campus life initiatives, grew 29 percent in 2020.

Forward-Thinking Initiatives
New initiatives at Arcadia under President Nair's leadership include: Justice, Equity, Diversity, and Inclusion (JEDI), a campus-wide review of policies and programs to advance core values; Arcadia2025, an adaptive strategy that incorporates community engagement across campus; more than 40 anti-Black Racism Initiatives; new athletic programs, including men's and women's ice hockey and eSports; Alumni Roundtable Talks designed to connect alumni more deeply with campus life; and the establishment of the Center for Teaching, Learning, and Mentoring, which educates faculty in emerging pedagogy and provides opportunities for student fellowships.

Culture of Shared Governance
The team is taking a bold approach to rebuilding trust. When Arcadia faced unexpected shortfalls due to COVID-19, senior leadership saw an opportunity to address longstanding budget issues. Instead of standard cuts, the team led a collaborative redesign process that engaged department chairs and solicited feedback across campus.

Nair and his cabinet have also initiated regular check-ins with departments, drawing valuable feedback and deep appreciation. Meetings and town halls, once sparsely attended, now draw hundreds of faculty and staff.

"I've seen lots of leaders," Craik says. "I've never seen the leadership skill that the current team has in creating an environment that allows everyone to have a voice."
Andrew absolutely understood the major issues that our university was facing.
But he saw that it was an opportunity for incredible growth. To get to the point where we were looking at candidates more holistically, more thoughtfully, and maybe giving people opportunities to participate in the search process traditionally wouldn't have, but were the best candidates.
–
Rebecca Craik, P.T., Ph.D., F.A.P.T.A., Dean, College of Health Sciences, Arcadia University
Andrew has a unique ability to find extraordinary talent.
Some of that I can't explain. He challenged himself and us to be our very best and, most of all, he delivered our top choice candidate in every search. He helped us share with the world the opportunity to join a team in motion, a dynamic team, whose calling is to do transformational work not maintain the status quo.
–
Ajay Nair, Ph.D., President, Arcadia University