Image

Penn Medicine

The Department of Medicine strengthens finances through organizational strategy.
Background
Penn Medicine, a national leader in academic medicine, comprises two major institutions: The Perelman School of Medicine, a top recipient of National Institutes of Health grants, and University of Pennsylvania Health System (UPHS), a network of ten multi-specialty centers and six hospitals, including two consistently ranked among the best in the nation by U.S. News and World Reports. Over 6,800 faculty and staff, 4,100 medical students, post-docs, and fellows, and 48 departmental centers power the institution.
Challenge
A key challenge in academic medicine is aligning multi-faceted operations to pursue growth. In 2014, Penn Medicine's Department of Medicine established the following objectives:
Create a reliable operational model for growing profit margin.
Foster trust across divisions. 
Align academic research and clinical practices to maximize clinical productivity and optimize investment.
Image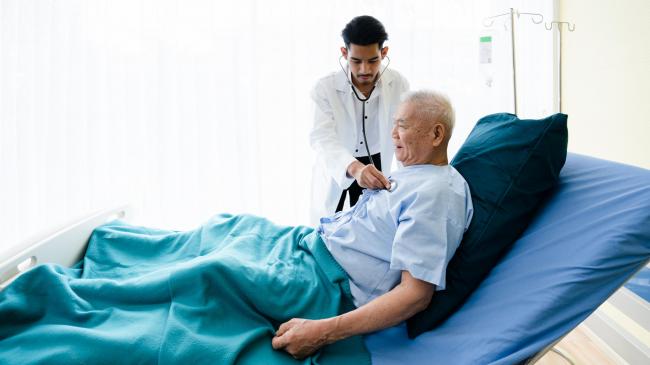 Approach
The department hired Andrew Wheeler to source candidates for the Chief Operating Officer, a new role to bridge physician leadership with administrative structure.
Wheeler met with hiring executives to listen to their concerns and aspirations. Penn Medicine needed someone with deep experience in academic medicine, solid financial drive, and proven capacity to strengthen internal relationships. 
Within weeks, Wheeler presented the department with six candidates from top medical schools, primarily sourced through industry relationships. The pool included Tom Gakis, then serving as the Chief Executive Officer of medicine and three clinical departments at UMass Worcester. Gakis came from a smaller organization, but Wheeler recognized his remarkable capacity to balance complex administrative structures while managing personalities. Once Gakis met department leaders, the fit was evident. 
"There was a clear connection on values," Gakis says. "I felt like I could come in and help, and that's really important to me to add value."
Gakis accepted the role in late 2014. Shortly thereafter, he hired Wheeler to find his Chief Financial Officer, another new position developed to emphasize the need for strategic thinking in organizational finances.
"Faculty practice finance is not high flying corporate finance," Gakis says. "It's strong accounting, strong understanding of compensation plans in compensation management, how it all fits together. I needed somebody who thinks about this stuff and has this great idea over the weekend; somebody with technical capabilities experience, but also insight and a good person who would work well with leaders."
Within a few months, the department hired Phong Bui, then Director of Finance at Mount Sinai School of Medicine, one of several competitive candidates Wheeler sourced. Bui brought solid expertise in financial modeling for physician compensation programs, correlating wait times with productivity, and improving patient access. Gakis appreciated Bui's deep technical expertise. Wheeler recognized Bui's backstory -- which included fleeing Saigon -- demonstrated a level of grit and determination necessary to push innovation.
There was a clear connection on values.
–
Tom Gakis, Chief Operating Officer, Department of Medicine, Penn Medicine
Results
Penn Medicine gained Tom Gakis, COO, and Phong Bui, CFO, within a few months of initiating searches. Gakis and Bui continue working closely with department leaders to deliver:
$225 Million Growth
Penn Medicine has made tremendous financial gains, with margins exceeding budget by 20% each year and investment income up 30%, thanks to a strategy Bui orchestrated.
"Nobody had been able to crack the problem of investment growth for years," Gakis says. "Bui did it with a level of integrity; it was one of the slickest pieces of work I've ever seen. He was able to build the bridges with the right people."
Increased Satisfaction Among Patients and Physicians
Perhaps the most impressive aspect of the Department of Medicine's turnaround is its potential for longevity. Gakis and his team have intentionally fostered widespread buy-in from physician leaders by investing in critical programs, including: 
Financial literacy seminars to educate physician leaders on the rationale behind investment decisions, including the impact of margins on organizational development.
Shared vocabulary around core capabilities, which serve as benchmarks for performance evaluations, offering a common framework for measuring value across departments.
Organizational improvements, including programs that address faculty burnout and new leadership positions in electronic health records optimization and diversity, equity, and inclusion.
According to internal surveys, overall job satisfaction among faculty has increased by 5%, and patient satisfaction levels have risen to the 90th percentile since implementing new programs.
"We didn't just pursue a growth strategy," Gakis says. "We presented an organizational strategy, and that strategy produced growth."
Andrew's sourcing is excellent. It's what he is willing to do to determine who someone could be. He does a ton of research and the hard work of getting candidates interested. He challenges the client as much as the candidate. In healthcare, in particular, a person may be failing and find a role in another organization with a greater title. With Andrew, you're not going to meet paper tigers.
–
Tom Gakis, Chief Operating Officer, Department of Medicine, Penn Medicine